Orlando Hotels
Econo Lodge Maingate East Hotel


ECONO LODGE MAINGATE EAST
4156 West Vine Street - Kissimmee
7 miles east of Walt Disney World Resort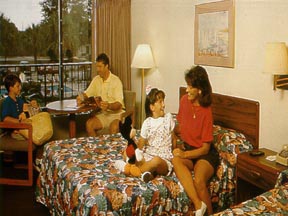 Number of Rooms: 131

The Econo Lodge Maingate East is located just seven miles east of the Walt Disney World Resort! Each of the 131 sleeping rooms has two queen-sized beds, private bath, individual climate control and in-room safes. Premium channels such as three HBO's, ESPN & the Disney channel are FREE.

Dining selections are abundant too! The location of the Econo Lodge Maingate East puts you near every food chain you can imagine, not to mention a fine assortment of unique independent eateries that fit every budget. Themed restaurants are nearby at Downtown Disney; where you can literally dine with the stars....from Planet Hollywood to Gloria Estefan's "Bongo's Cuban Cafe!" Sunday's Gospel Brunch at the House of Blues is one show you won't want to miss!

The Guest Services staff at the Econo Lodge Maingate East is available 7 days a week to assist in planning every minute of your vacation with special tips on how to see the attractions and offering many discounts to area shops and restaurants. Factory outlet shopping is synonymous with Central Florida.... Where the term "shop 'til you drop" must certainly have originated! Every major name in sports apparel, clothing, china, travel and home accessories are all within easy reach of the Econo Lodge Maingate East.

The Econo Lodge Maingate is offers reasonable rates and a location that can't be beat. Formerly Quality Inn Maingate.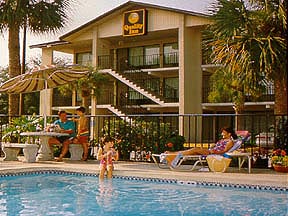 Amenities:
131 Queen/Queen Bedded Rooms
In-room Safes
3-HBO's/ESPN/Disney Channels
Refrigerator - minimal fee
Onsite Service:
Year Round Outdoor Pool
Orlando Int'l Airport - 19 miles