Las Vegas Hotels
Excalibur Hotel & Casino

Light Years Ahead.
4315 Swenson Street
Las Vegas, NV
The Great Vacation Quest is Over.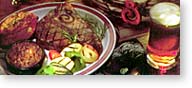 Wander the village and visit 16 shoppes of His Majesty's treasures, wet your whistle at the Village Pub, and enjoy free shows at Court Jester's performance Stage. Enjoy a Feast at The Round Table Buffet, the Gourmet cuisine of Camelot, sir Galahad's Prime Rib, Lance-A-Lot Pasta, and the Sherwood Forest 24-hour cafe. For a taste of the old west head over to Wild Bills Saloon and Steakhouse.



Enter the Realm of Sword and Socery in the Lap of Modern Luxury - 24 hours a day.
Slots
21
Craps
Poker
Roulette
Race and Sports
Keno
Staying at the Kingdom of Excalibur, the world's most exciting Hotel/Casino, is by far the best hotel value in the land!
Take a ride in the wild side aboard Merlin's magic Motion Machine. Witness King Aurthur's Tournament, a dinner show spectacular where brave knights in shinning armor perform feats of great strength and skill.
Vow to experience the romance and enchantment of the Canterbury Wedding Chapels, where lovers of all faiths woo and wed.