Anaheim Hotels
Tropicana Inn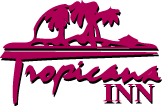 TROPICANA INN
1540 S. Harbor Blvd.
Anaheim, CA
Just across from the happiest place on earth!

Enjoy yourself in one our 200 comfortably furnished rooms. Or relax in our spacious pool and spa that are heated year-round for your pleasure.

Features include:

Choice of King, Queen/Queen or Double Rooms
Non-Smoking Rooms
Tea and Coffee Makers
Adjoining Rooms
Direct Dial Phones
Color TV
Pay Per View Movies
Sightseeing Tours Daily
Disneyland Packages
Guest Laundry Services
Morning Refreshment
Valet Service
Car Rental Service
Disneyland Park Shuttle daily

Whether you're planning a dream vacation honeymoon or business trip, we'll make your visit more comfortable than ever with a style of service that is as warm and friendly as the Magic Kingdom itself?